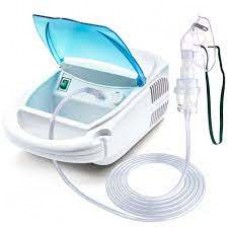 GKA New Family Portable Nebulizer is one of easy usable best Family Portable Nebulizer available on online marketplace. Medistore selling online at best price in Bangladesh.
Production Function
Procuct Parameters:
Electrical Requirements:
230v / 50 Hz (for model 92301), 115V / 60Hz (for model 92302), Single Phase
Sound Level:
50 — 63 Max dBA
Power Wattage:
75 watts @ 14 psig
Electric Motor:
Class H in compliance with UL2III.
Foam Intake Filter:
Porex PE Filter.
Safety Systems:
High temperature compressor shutdown.
Dimensioni:
(H)167x (L)145x (W)97mm
Weight:
1.55kg
Shipping Weight:
4.2 lbs
Maximum Pressure:
33 psi
Maximum Flow Rate:
8.0 L / min.
Operating Flow Rate:
4.0 L / min. minimum @ 16 psi operating pressure
Storage Conditions:
-13 °F to 158 °F(-25 °C to 70 °C);10% to 95% RH
Operating Conditions:
50 °F to 104 °F(10 °C to 40 °C);10% to 95% RH
Altitude:
0 to 6500 ft(2000 m)above sea level
Mode of Operation:

Intermittent Use (30 min. ON / 30 min.OFF)




You can check our Surgical Items.

Portable Nebulizer GKA New Family