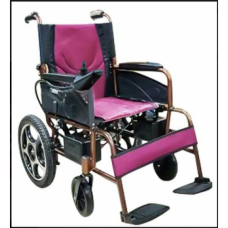 Designed to provide versatile mobility support and accommodation for an active lifestyle, this wheelchair carries users over both indoor and outdoor terrains and being conveniently foldable to enable easy storage and transport.
Versatile design easily accommodates a wide range of user needs.
Folds down effortlessly into a compact size for convenient storage and transport.
Durable frame carries users through all aspects of life for indoor and outdoor use.
Storage provided under the seat and a pocket on the back of the seat
Joystick and powerful brushless motors enable long-lasting operation and easy control.
ISO, SGS, CE, and FDA certified.
The Freedom Chair Portable Folding Electric Wheelchair is lightweight and easily adjustable to support any user through an active lifestyle. This wheelchair is compact and can easily be folded down in just seconds to fit into your trunk, closet, or even an airplane, taking you wherever you want to go, while the powerful brushless motors enable reliable mobility for a fun, effortless, active lifestyle with no worries of needing to recharge. The unique design is compatible with a convenient trailer and trailer car for versatile mobility transport ideal for couples and caregivers. The wheelchair comes with 1 battery, a 2A charger, a charger conversion connector, a cup/phone holder, an attendant control bracket, a car power inverter, and a waterproof travel bag.
You can check our Oxygen Cylinder

Electric Wheelchair