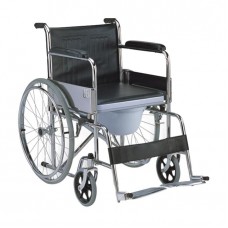 Kingfisher Economy Steel Manual
commonplace

Wheelchair
Type: Wheelchair
Frame: Chrome Steel
Upholstery: Pvc seat and Back
Function:

fastened

Foot And Armrest
Foot Plate: Aluminum
Seat Width:46 cm
Front Castor:

eight

"Pvc
Rear Wheel: 24″ Spot Wheel Solid Tyre
Side Plate:

chrome steel

Plate.
Economic chromed steel chair for the elderly, sick, disabled and users with goods needs * Stainless, aging resistant chromed steel frame * engineering style supported human waists' physiological curvature providing most comfort for users. Durable, engrossing shock.
In the box:
1x folding wheelchair,1x chair set,1x common frame,1x rest room bucket.
You can check our Oxygen Cylinder

Economy Steel Manual Standard Wheelchair