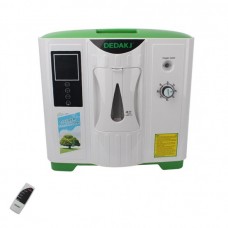 DEDAKJ DDT-2A atomic number 8 Concentrator delivers Associate in Nursing flow of air that ranges between a pair of and nine liters. the continual airflow and purity are 2 LPM at 90%, three LPM at 85%, four LPM at seven5%, five LPM at vi0%, 6 LPM at 50%, 7 LPM at 45%, 8 LPM at 35%, 9 LPM at 30%. for somebody who desires a better output of his oxygen machine, the DDT-2A is that the product of DEDAKJ's lineup to travel for. It offers identical practicality and similar aesthetics as DDT-1B, with higher overall output.The increase in performance comes with alittle increase in weight, to 14.3 lbs (~6.5 kg). The casing of the 2A is slightly larger, however the visual distinguishes between models continues to be color. It comes in a very inexperienced and white plastic cover.
Main  Feature:
1. Negative ion function:6 million/cm3
2. Time setting :the longest a hundred and eighty minutes
3. Power saving mode function
4. Sleep function
5. Automatic power-off protecting function(The machine are going to be in sleep mode mechanically when no operation for three minutes, the screen lights low-beam to power saving.)
6. Remote infrared control
7. atomic number 8 accumulated function 
8.LCD screen, straightforward to look at and operate for temporal arrangement function.
9. High exactness copper oil-free mechanical device create the noise lower with quick chilling and overheat protection.
10. Highlight the button, let the senior operate it freely at night.
11.24 hours continuous offer of oxygen, convenient for supplement for a protracted time.
You can check our Oxygen Cylinder

DDT-2A Oxygen Concentrator